Adat Shalom Preschool, located near Fox Chapel (Pittsburgh, PA), offers a First Experience preschool class for children who are 15 months through 23 months by September 1st. At our preschool, children learn through play in a warm, supportive, safe and fun preschool environment.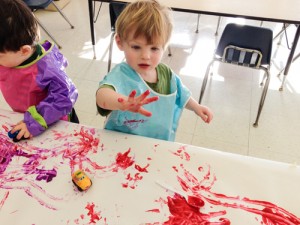 Our Preschool Class for 1-Year Olds
Age Requirement:  15 months by September 1
Class Days:  Tuesday & Thursday
Class Times:  9:30 a.m. – 11:30 a.m. September – December, 9:30 a.m. – 12:00 p.m. January – May
Class Size / Ratio:  2 teachers to 8 students, maximum
Our Preschool Curriculum for 1-Year Olds
Our developmentally-appropriate curriculum provides your child with a variety of opportunities to stimulate growth and learning in a caring, relaxed, pleasant, and fun-filled atmosphere.  Activities are always age appropriate and may include:
– Songs, music, and finger play                                    – Creative and messy art time
– Individual and group reading time                             – Fine and gross motor skill development
– Outdoor or indoor playtime
Why choose First Experience
We pride ourselves on having a home like feel to our First Experience room. You will notice rugs on the floor, a rocking chair to sit in, and softer lighting. The environment allows the children to have time for self-guided play and art, where they have an opportunity to express themselves. The teachers nurture, encourage, and praise the children above all else.
Our teachers work with each child to ease separation anxiety. Children expand communication skills with each other and their teachers. A strong emphasis is given to allowing the children to express themselves through not only words but music and art.
Our Teachers for 1-Year Olds
We always have two teachers to no more than eight students for our one-year-old classroom. We also have a parent facilitator for our September classroom parent group.
Our head teachers boast degrees from accredited colleges or universities.
Our teachers and staff are CPR and First Aid Certified every two years, participate in professional development training each year, and have criminal and child abuse clearances on file.