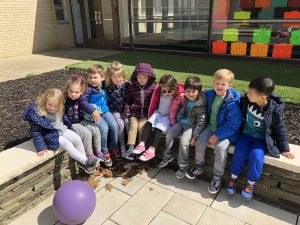 '
Our Preschool Class for 3-Year Olds
Age Requirement: 3 years by September 1
Class Days: Monday, Wednesday & Friday
Class Times: 9:30 a.m. – 12:30 p.m.
Class Size / Ratio: 2 teachers to 12 students, maximum
Our Preschool Curriculum for Terrific Three's
Our Terrific Three's program offers a wonderful way for your child to grow and learn social and interpersonal skills as well as help build a foundation knowledge for school. In the threes class, your child will:
Learn how to take greater responsibility for self-care, as self-esteem and independence emerge at this age.
Learn the seasons, months, days of the week, and numbers to 31.
Begin learning phonemic awareness by reviewing alphabet letters and sounds through fun activities and games.
*Your three-year-old does not have to be potty trained. Our staff will work with you and your child to assist in the toilet training process.
Read more about our preschool curriculum.
Your Child's Day
Experience games, songs, fingerplays, art projects, individual and group reading time, and outdoor playground (or indoor bike-room) playtime, depending on the weather.
Enjoy thematic units created to tap into your three-year-old's specific interests, like "Learn About Thunderstorms."
Participate in a musical movement class twice monthly with our music specialist.
Enjoy special visitors to the classroom throughout the year including the Pittsburgh Zoo, the local fire department and more.
Enjoy a fall field trip to a pumpkin farm and a spring field trip to a local venue.
Optional Extended Program
Lunch Bunch
Class Days:
Monday, Wednesday & Friday
Class Times: 12:30 p.m. – 2:15 p.m.
Our Lunch Bunch Plus is a year long extended day program for children currently enrolled in our Terrific Three's class. This enrichment program offers a variety of curriculum. Mondays are Science,Technology,Engineering and Math (STEM) days where your child will get to have hands on experiences exploring the amazing world of STEM. On Wednesday,we will go Beyond the Page giving your child the chance to learn about books and become the author of their own book. Make a Mess with sensory days on Friday as children learn to use all their senses while they play.
Our Teachers for 3-Year Olds
We always have two teachers to no more than twelve students for our three-year-old classroom.
Our head teachers boast degrees from accredited colleges or universities.
Our teachers and staff are CPR and First Aid Certified every two years, participate in professional development training each year, and have criminal and child abuse clearances on file.